hoverboards

Which is the Best All Terrain Hoverboard?
1980 Views
Which is the Best All Terrain Hoverboard?
many of the best hoverboards can take you many miles, even over difficult terrain. In this buying guide, we are looking for the best off-road hoverboards.
These hoverboards carry larger wheels, big knobby tires, an all the protection you need against dirt, little rocks and splashes of water. This are not the monster dirt bikes or scooters for adrenalin junkies, but they will give you plenty of fun riding smoothly on any uneven terrain, or commuting through the park. We tried and tested a number of so called "all-terrain" hoverboards, and here are our top all Terrain Hoverboards.
Reliable, easy-to-use and safe hoverboards which can tackle even challenging routes are the types of products we are looking for. It is vital that you do some research before buying a self-balancing scooter like this, as products vary so much in terms of quality and features. It isn't worth taking the risk on a product which is going to break as soon as it faces a tough ride, or worse, a product which doesn't do enough to protect your safety.
What is an Off-Road Hoverboard?
An off-road hoverboard is a hoverboard with heavy-duty tires and a robust exterior built for traveling in rough terrain.
It is worth exploring exactly what an off-road hoverboard is. Hoverboards have been available for a little while now, and depending on your own unique needs, a standard self-balancing scooter might be adequate, or you may need an off-road model. Depending on your preferences, you may even want an off-road skateboard.
The definitions of 'road' and 'off-road' are very much the same as in cars. Whereas some vehicles are produced just to travel on standard roads and get people from A to B without facing any difficult obstacles, others are created with the capability of going off standard roads and traveling across farmland, beaches, marshes and other challenging terrains. 4×4 style vehicles with heavy-duty tires and rigid designs are used for going off-road.
You can probably see why this is useful for hoverboards. The chances are, the journeys you plan to take aren't always going to be places you can reach via simple roads and pathways. Let's say you want to go to the beach or take a shortcut through a park to get to work on your hoverboard, an off-road model might be your best option. In terms of design differences, the off-road hoverboards are likely to have tires with more tread and high pressure as well as a rigid, well-made body which won't be phased by a bit of rain or mud.
Top All Terrain Hoverboards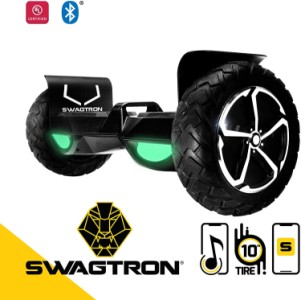 Next up is the SWAGTRON T6 and one of two off-road hoverboards on this page. It's an incredibly strong self-balancing scooter with the strength and build to take it places other boards can't go. SWAGTRON has been among the leading companies to make some of the best hoverboards for a while now. Seriously, I have not seen the same level of impressive hoverboards from any other company so far. It is almost like a monopoly. And today I am looking at the SWAGTRON T6, one of the very few hoverboards that are made for different terrains.
The first look, and you will know that the company paid extra attention to detail; the hoverboard is made using quality material, and looks very rugged. After checking the specifications out, I figured out the reason behind such a rugged construction; the hoverboard supports up to 420 pounds. Other hoverboards often support maximum 220 pounds so 420 is nearly double of what I expected to see in the market.
Best feature 1: Handles up to 420 lb. payload
Best feature 2: Rugged, 10-inch tubeless air-filled tires
Plus points: SWAGTRON app for Android and iOS, incredible traction, Bluetooth
Minus points: Higher price tag, not easily portable
The SWAGTRON T6 is the off-road hoverboard that feels as good as it looks. If you want something that offers a bit more adventure then the T6 has to at least make your shortlist. It's a quality capable scooter that can take you places other boards simply can't go.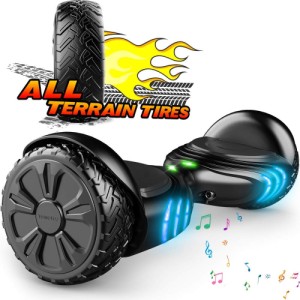 The Best Value self-balancing hoverboard is the TOMOLOO Q2X. It's a beast of a board yet easy to balance and steer, wherever you take it, whatever your skill level.
Petite and powerful is a good combination. The Tomoloo Hoverboard Q2X-Pink comes from the Q line that features 6.5" wheels. Its complete model name is Q2X Fire Kylin. On a single charge, the Tomoloo hoverboard Q2X-Pink can go as fast as 7.45 mph. Its load capacity is 220 lbs and features a climbing ability of 15 degrees. If use is continuous, expect to get a good 3 to 4 hours of operation. Tires are at a petite but smooth riding 3.5". Runs on 18650 lithium batteries 108 Wh / 4.3 Ah. It shares the same features as other Tomoloo hoverboards – an app that allows riders to control the on/off switch, front and rear angles as well as steering sensitivity among many others.
Best feature 1: Off-road, multi-terrain capable hoverboard
Best feature 2: Powerful 350W motor
Plus points: Rugged board, eye-catching design, solid tires, app control, RGB lights
Minus points: Slow top speed
TOMOLOO is a trusted name in hoverboard quality and safety, and this model checks a lot of boxes. The cost of its torque is a slower vehicle. TOMOLOO built the Q2X for off-road adventures rather than speed. It's not painfully slow, but the 6.2mph top speed is way short of some rivals. Thus, if you want to go fast over flat—rather than steady over tough terrain—then this isn't the board for you.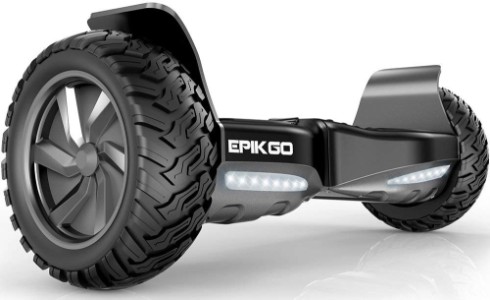 EPIKGO is one of the best rated and most popular hoverboards on the web and it's perfect for adults. An all terrain hoverboard! That is definitely a catch with hoverboard enthusiasts. Since many electric scooter brands are limited to smooth terrain, this gives EPIKGO a competitive edge.
The speed is fast enough. It gives you the pleasure of overtaking fellow riders who have slower models.
An all terrain hoverboard! That is definitely a catch with hoverboard enthusiasts. Since many electric scooter brands are limited to smooth terrain, this gives EPIKGO a competitive edge.
The speed is fast enough. 10-12 miles per hour is a thrilling speed but still within a safe range. As you cruise to the fullest, you can rest assured that you are not compromising your safety.
The motors are super strong; supporting your speed and stability. the dual motors are what make this device one of the safest electric scooters you should be gliding on. The motor brushes within the board also work to ensure you are not only getting the most powerful self balancing hoverboard but one of safest in the market.
Smart battery: this one charges fast (two hours tops) and keeps that power for 6 hours. With that much power you can make a longer errand than you would on any other self balancing scooter.
Overall, EPIKGO electric scooter has gone all the way top to be one of the best hoverboards in the market. Its performance, speed, balance and competitive price are some of the things that make it an irresistible choice.
For someone looking to glide on an all-terrain surface be it grass or gravel; this is a top contender in that list. It is an all climatic situation mobility tool and the right place where you should put your money in. Apart from being a bit heavy, we do not have many complains leveled against this top speed self-balance board.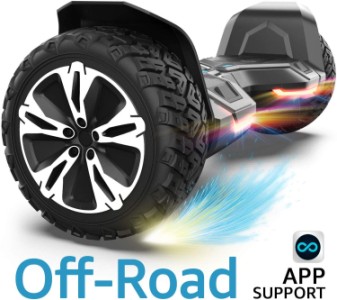 Gyroor sells several models of hoverboards. When I first started researching the brand, I liked the look of the F1. Their website claims its design is inspired by Formula 1 racing cars, and that really comes out. However, knowing my niece and nephew were going to visit, I wanted a hoverboard that could stand up to any punishment they might put it through. So, I opted for the more rugged Warrior, instead.
Gyroor's website says the Warrior can be used by anyone over seven-years-old but, in full disclosure, my niece is only six and was able to ride it without any problems J.
My first impression, when I opened the box, was that Tony Stark had designed this hoverboard from leftover parts of an Iron Man outfit. The Warrior shares some of the F1's sleek, streamlined features, but is also chunkier in important places; it's hard to describe, but it looks kind of like if the army designed a tank for aerodynamics, and then only gave it two wheels. At 30lbs, it isn't the lightest board on this list, but it's also not the flimsiest; made mostly of aluminum, it feels sturdy and solid.
Gyroor Warrior Hoverboard Highlights
I live in an older part of the city, and tree roots have turned our sidewalks into something that M.C. Escher might have wanted to draw. So riding hoverboards to work can be, depending on what route I take, harrowing. I'm happy to say that, while I definitely cannot go full speed over a badly broken sidewalk, the Warrior felt safe to ride, and it was fun navigating the climbs and drops.
When I visited the park with my brother and his kids, the Warrior handled grass and roots without much problem. I can't say I never fell off, but I was trying to push the Warrior's limits, and there might have been some operator error. My niece and nephew loved riding off-road, daring each other to ride over terrain they thought would be challenging.
On smooth pavement, it has a top speed of almost 10 mph. While this isn't the fastest hoverboard on my "top ten" list, it does make for a fun ride.
Gyroor's website claims the Warrior is water resistant, but it's also light enough to take on the bus, which I do whenever it rains. I'm also sure that it would fit in the trunk or back seat of a car (though I haven't actually tried this, because I don't own a car). J
It takes about two hours to charge, which is pretty fast; other boards on the list take five hours or more. When I rode it to work, I was able to plug it in knowing that it would have enough battery to get me home (even when I took a half-day). The charge speed was also nice in the evenings, in case I needed to go somewhere else. Going full speed, the battery lasts about an hour.
What I did NOT Like
The Bluetooth seems to disconnect at random times. This was fine when I had the time to turn the thing off and back on and reconnect, but sometimes I just wanted to get where I was going, and to have it disconnect from my phone could be annoying.
Also, when it gets low on charge, it kind of rocks back and forth, which kicks the rider off. When you know it's going to happen it isn't a big deal, but it was scarier to watch it happen to my brother's kids when they weren't expecting it.
And the instructions on how to operate it are somewhat minimal. While it isn't hard to look it up online, or to watch how-to videos on YouTube, it would be disappointing to open up a new toy and then have to tell your kids, "Oh, hold on… I don't know what this does. Let me look it up online."
What I Liked
What I liked most about the Warrior, compared to some of the other brands on this list, was that it had features that attracted my siblings' kids, while still being sturdy enough for me.
The Warrior's Bluetooth connectivity and speakers were also a great feature. I live on a cul-de-sac, and when my brother visited we let his kids ride in the street (because my sidewalks are so bad). Their dad didn't let them wear earbuds in the street, so they liked that they could still listen to music with relative safety. And, if I'm being honest, I sometimes listen to music when I ride to work, and crossing streets wouldn't be safe with earbuds. With Bluetooth, I could also adjust the board's maximum speed, or set it to 'Kid Mode' for my niece. The color of the LED lights can also be changed, which the kids loved (but that honestly didn't do anything for me).
The weight and aluminum construction helps this feel sturdy underfoot. There are hoverboards marketed to kids, but this felt sturdier than some of those, which I liked (and again, being able to adjust the maximum speed was nice when kids wanted to ride it). Its tires are rubber, and nicely absorb of the smaller shocks and bumps of an uneven road.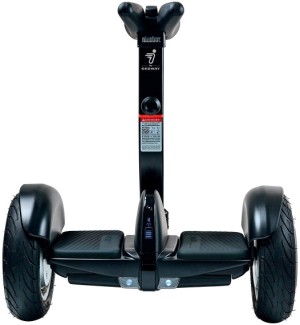 Next on our list for the best kids hoverboard, the Segway MiniPRO. Like all Segway products, a high priority has been placed on build quality, functionality and overall design. Rest assured that all parts and components used in the MiniPRO are of the highest quality. The frame of this hoverboard is crafted from highly durable, aviation-grade magnesium alloy. This results in an easy to store, easy to carry board, alongside being highly rust resistant.
Much like the Ninebot S, the MiniPRO features an innovative, height adjustable knee control bar. This allows for precise turning whilst keeping your hands free. Suitable for riders as small as 3'11" and those up to 6'6″, this board really is perfect for kids and adults alike. Children can use the control bar with their hands, whilst adults can simply use their knees. Not only this, but now you can upgrade your MiniPRO into a fully functional, reversible GoKart, with the Segway GoKart kit!
Boasting two 800W powered motors, the MiniPRO really goes the extra mile. Featuring a top speed of 12 mph (20 km) and a staggering range of 14 miles (22 km). The MiniPRO is one of the most cost-effective Segway models out there and is of exceptional build quality. Weighing at just 28 lbs (13 kg), this board is extremely lightweight and easy to carry. What's more, the MiniPRO has a max. payload of 220 lbs (100 kg), capable of supporting 7.5 times it's own weight!
In terms of safety, the MiniPRO meets every expectation. Like all Segway products, these hoverboards undergo rigorous electrical and fire safety certification. With an IP54 waterproof rating, this board is capable of tackling all manner of elements without short circuiting. Furthermore, this hoverboard fully UL 2272 certified and is protected from all major fire and electrical threats.
Easily lock your hoverboard with anti-theft or get diagnostics about vehicle condition, all via the Segway mobile app. Furthermore, users can also customise the LED lights to best suit their style, or learn how to ride with the Segway tutorial.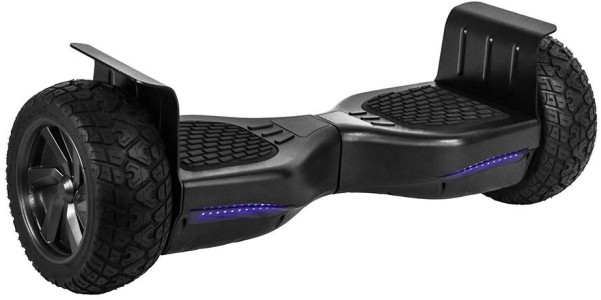 A cool off the road hoverboard that looks like it's from a movie. It comes with strong rubber vacuum tires which have a diameter of 8.5'', perfect for all kinds of rough surfaces.
It has two very powerful 350w motors that enable it to move at 8.5 mph and it's 4000mAh Li-ion battery gives a run time of 13 miles. At a charging time of two hours, it provides one of the highest range in the market today.
It cannot climb at more than 17 degrees but a load capacity of 264lbs, beautiful LED lights, a Bluetooth speaker and a UL 2272 Certification, more than make up for it.
This is a very rugged all terrain hoverboard for sale designed for off road activities. It also comes with an built in bluetooth speaker and LED lights. The unit is quite cool for beginners and amateur riders. The unit has an 8.5inch vacuum tyre Bluetooth stereo speaker with the best sound quality. As long as you have a Bluetooth compatible device, the hoverboard is ready to pair. It will support a maximum weight of 264.5lbs and minimum weight of 40lbs.
The unit has a max climbing of 17degree pedal height. It takes it about 90 to 120 minutes to fully charge and will run for about 13miles per full charge. It has a maximum speed of 8.5Mph. The hoverboard is also UL Certified to ensure safety, such as exploding or catching fire.
It works well on gravel and grass which most hoverboards might have issues with. Only downside to this hoverboard is that you need to use the manual to get is started as it won't start up right out of the box.
It has the best sound quality.
It can go as far as 13 miles on a full charge.
The market for hoverboards is growing at a high pace making it difficult to pick the right board. Therefore, we have written down the key points to pay attention to when choosing the best off-road hoverboard for you.
Safety
Safety is always the first concern when buying hoverboards. Since they run on batteries, occasional electrical mishaps are not uncommon. This mainly happens due to faulty lithium-ion batteries used in cheaply made boards which can undergo overheating or even explosion in some cases. Due to this concern, some hoverboards have been pulled off the stocks, which leaves you with the safer ones.
However, before buying an all-terrain hoverboard, make sure that it has been approved of all the necessary legislations and subjected to various tests like the overheating test, overcharged test, and so on. Thankfully, all the boards in this review have been UL-2272 Certified. This means that they're safe to use. Zero battery concerns whatsoever.
Speed and Range
An off-road hoverboard can go at different speeds ranging from 2 MPH to 12 MPH. This will also to some extent be decided by the terrain and the weight of the rider.
Currently, the fastest hoverboard has a top speed of 12 MPH. The range will, however, vary depending on how fast the battery is draining. At the moment the best off road hoverboard can cover a range of up to 12 miles if run correctly.
If the hoverboard is for a kid, you might want a board with a lower top speed. As you probably agree with, safety is the first concern for our kids. Our guide on hoverboards for kids will teach you everything you need to know about the topic.
Pro tip: Consider whether you'll be using the hoverboard for specific routes. Maybe you'll be using it to and from work – make sure your target location is in range.
Battery & Charging Time
Batteries are the powerhouse of hoverboards. Charging time is therefore of critical importance. The off road hoverboard batteries usually take around 2 to 3 hours to get fully loaded and last for about 2 hours at an optimum speed. They may, however, drain faster if you choose to go at high speed along with the speakers turned on if those are built into your board.
During this time, the LED indicators can come in handy. These allow you to keep track of the battery level so that you can manage it accordingly. Some of the boards have helpful smartphone apps that let you keep track of the battery levels as well. A durable and robust battery is crucial when picking the best off road hoverboard.
Weight Limit and Coordination
Although there is no bar on who should be allowed to ride an off-road hoverboard, they're not safe for young children or the elderly. An off-road hoverboard can catch up speeds of up to 12 MPH. Hence, if you fail to maintain good coordination, you could quickly go off stray and end up hitting a sidewalk edge or meeting with unexpected disasters.
When it comes to weight, an average off-road hoverboard can take 200 lbs. However, some hoverboards can support up to 420 pounds without it affecting the stability. An excellent example of this is the SWAGTRON T6 which allows for more than 400 lbs of support. Hence, this is the best off road hoverboard for heavier people. For more info, we got an article on hoverboard weight limits.
Build Quality
The build quality is one of the most important things to look out for when choosing the best off road hoverboard for your needs. The build quality would imply the material used for the frame, housing, and wheels. Metal wheels are always more favorable than plastic wheels and when it comes to the sophistication of the internal components; you should make it a point to learn about the efficiency and durability of the motors, sensors and other electronics.
An off road hoverboard is mostly subjected to rough use. Hence, anti-scratch bodies are ideal. Wheel covers and batteries with higher power retention are also a definite plus. It is best to buy a board from a reputable brand.
The companies reviewed in this post are all well-known for their great support. If you buy from another manufacturer, make sure to do your research. Find out if the manufacturer takes any ownership in case of incorrect claims and whether or not they have functional customer support lines.
Portability
An off-road hoverboard becomes more versatile if you are able to carry it around during your trips. The ones weighing in between 20 to 30 lbs could be ideal for this.
These are strong enough to withstand a significant amount of stress and strain while also not being too heavy. You will also not be compromising on the torque and power. The all-terrain hoverboards that come with their own carry case would be even more convenient.
Where can I buy?
If you're looking for a hoverboard for sale, most can be found on Amazon (we like their free shipping and commitment to customer service). Some (like the Halo Rover and Swagtron T6 offroad) also have their own websites – just click on any of the links in this article to buy or find out more. Don't miss out on an incredibly fun riding experience, try one for yourself!