hoverboards

Best Hoverboard Go Kart Attachments of 2020
2190 Views
Best Hoverboard Go Kart Attachments of 2020
Have your kids got bored of their hoverboard? Or maybe they're just looking to try something new and exciting? If you've got a hoverboard (or are thinking of buying one), a hoverkart is a must have hoverboard go kart attachment if you want to take your hoverboarding to the next level. And it's not just for the kids – it's completely adjustable so adults can join in the fun too, making it the perfect gift for all the family. Hoverboard go kart is far safer than dirt bikes, scooters, and bikes.
As someone that always makes a big fuss about safety, seeing the hoverboard go kart attachment was a solution to most of my problems with it. Instead of standing up and having to stay balanced or fall over, you're sitting in a comfortable seat. Instead of having to use your legs to control it, you have two handles. Having more wheels makes your ride safer, and most hoverkarts have at least three. Going off-road is still not recommended, no matter how many wheels you have. And if you do, be sure to drive slowly.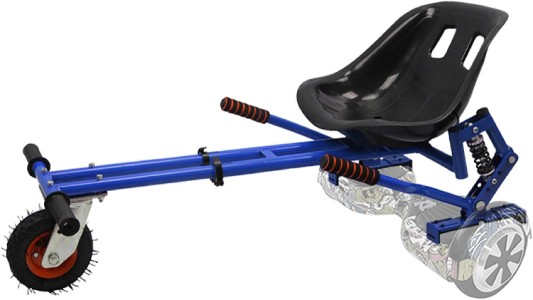 Starting off with one of the best, the Castool Hoverkart is a dream come true for the hoverboard kart enthusiast. It can be used with 6.5″, 8″ and 10″ Hoverboards, sturdy and easy to install, and has a real spring suspension system. What more can you ask for? Well, sometimes, during sharp turns the kart's wheel can hit your foot, so keep your feet as high on the pedals as you can. That's the only drawback we've had with this kart. The price is fair for what it brings, and you'll have lots of fun going on off-road treks with a sturdy, off-road hoverboard. With a max load of 220 lbs, even mom or dad can have a go around the block.
Adults, please be mindful that the hovercart attachment weighs 18lbs, and don't go over your hoverboard's max weight limit. Most suppliers and manufacturers are pretty conservative with the weight limit, but as always, it's better to be safe than sorry.
Dual spring suspension system
Suitable for all hoverboard dimensions
Quick and easy to install
Sturdy and durable
Adjustable length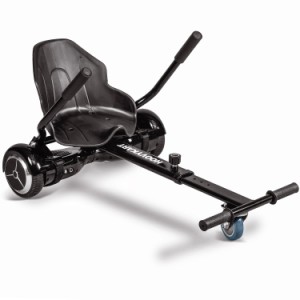 HoovyKart is one of the best-looking hoverkarts on the market, made with quality aluminum and plastic. The seat has a lumbar rest that should give you maximum comfort, or is a real pain in the back, depending on your size. Thankfully, it's adjustable. HoovyKart comes to your door almost fully assembled, but you do need to attach the seat to the frame using 4 screws.
HoovyKart is best used on a good road or sidewalk. It's strongly recommended not to go off-road because it can damage the straps. If you do go off-road, the product comes with spare straps. If you're planning on using it often, it's a good idea to order some more backup straps, since they get torn after a while on normal roads, and they tear in a few weeks off-road. We can't blame them, their selling point is that this kart is exceptionally easy to install.
Comes 90% assembled out of the box
Extremely easy to install
Great build quality, uses aircraft grade aluminum
Seat comes with the adjustable lumbar rest
Adjustable length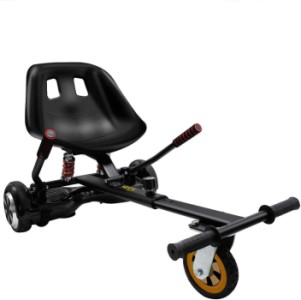 Hiboy's HC-02 is a pure joy to ride. It's an exceptionally soft ride, due to the dual spring suspension under the seat and the big wheel in the front. Everything else is in order, it's lightweight, sturdy and good looking. Unlike the other hovercarts, Hiboy needs some assembly. It's not hard to assemble, but the end result is a very durable and stable hoverkart. The HC-02 boasts the biggest maximum weight load, a whopping 270 lbs, and adults easily fit into the seat. The HC-02 is a great idea if you have a larger teen, or if you're up for driving with your kids.
Dual spring suspension system under the seat
Suitable for all hoverboard dimensions (6.5″, 8″, 10″)
Needs to be assembled
Very sturdy and durable
Adjustable length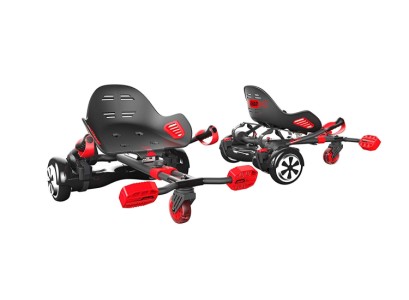 The Neon Hovercart attachment is the best looking one out of the bunch, with a stylish black and red color pattern, and the silhouette-breaking red bike pedals used as foot rests. One of the most unique looks we've found during our research. It weighs 19 lbs and has a max carry weight of 220 lbs.
This simple and stylish hoverkart proves that HoverPowered is back in the game. The Neon is smooth to ride and there's something special about having actual pedals for footrests instead of the round pipe.
Attachment compatible with all hoverboard dimensions
Very stylish
Pedal foot-rests
Adjustable length
Professional roller blade front wheel
The Pilan Cool is a new product on the block, and it's one of the most popular choices around. With a very affordable price and high-quality, lightweight materials, this hoverboard go-kart is a fantastic gift for someone bored of their hoverboard. Pilan features an adjustable front-wheel bar; it's quick and easy to change the length, meaning that anyone can ride this kart, from your toddler to you or your partner (getting your child a toy that you can use is always a bonus).
The wheel in the front is rather small, and there's no suspension system on this kart, meaning that you probably shouldn't go off-road with it. Please buy a spare strap or two, because they get worn out after a while on the road. This happens with every hoverkart. Other than that, everything else works perfectly. It's quick and easy to install, and you'll be driving in 10 minutes or less.
Great design, quality materials
Comfortable seat
Easy, fluid operation
Adjustable lengths
Attachment compatible with all hoverboard dmensions
How do you attach the hoverkart to the board? It's very easy, just use the straps. They can be tightened around the hoverboard, providing a tight fit. It's also easy to detach it, but I doubt you'll want to go back to the boring old hoverboard when you can zoom around with your hoverkart. Most hoverkarts can be attached to most hoverboards, but you'd better doublecheck that. While most fit the standard sized hoverboards, from 6.5 inches to 10 inches, they might not fit smaller child-sized models.
Some of the more outlandish, stylish hoverboards can't have kart attachments due to their shape or software limitations. Most hover karts are priced between $40 and $150, which isn't much. One word of warning; the clamps and straps might damage the hoverboard's painted surface. To prevent this, you can apply a protective skin to the surface, or attach protective tape.
Hoverkarts beat hoverboards in top speed though, zooming up to 15mph. While this seems slow on paper, it feels a lot faster in reality, because you're so close to the ground. Similar to how go-karts are so fun, yet aren't breaking any Rally or Nascar record. And besides, most hoverboard riders drive around 5-6 mph because they have to keep their balance and not lean fully forward. A hoverkart doesn't have this problem and can apply maximum torque on both wheels and blast off into the sunset.
A hoverkart is a fantastic idea that might freshen up your hoverboard experience, especially if you're one of those people that bought one, took it for a ride, and left it to collect dust in your garage. Or if your kids are bored and you're looking for a quick and thoughtful gift.