Electric Scooters

Best Electric Scooters for Adults 2020
172 Views
Best Electric Scooters for Adults 2020
In this guide, we break down the best electric scooters, including the best scooter for beginners or kids; best cheap electric scooter; best high-end motorized scooter; and best electric scooters for commuting. To close out the guide, we'll go over all the buying considerations you should bear in mind when shopping. The motor, construction, speed, range, and weight are all critical factors to remember so that you can get the best e-scooter for your needs.
Electric scooters have become very popular in recent years for kids, teens, and adults alike. These vehicles look like the old scooters of the past, but an electric kick scooter is equipped with a motor and battery system designed for speed and distance. They aren't just for fun anymore, either; many of them are great for commuters looking for a green transportation option. You've seen them zooming past wondering pedestrians, or swerving through bustling city streets. Love them or hate them, but they get to where they need to be fast and easy, while other people spend hours in their cars, stuck in traffic.
What are the electric scooters?
Electric scooter is a two (or three) wheeled vehicle propelled by an electric motor powered by a rechargeable battery. The battery is charged by plugging the charger into the regular wall outlet at your home or office. Speed ranges from 8mph to 25mph (sometimes limited to 20mph) and they run up to 20 miles on a single charge. Of course, this all depends on various factors: weight of the driver, tire pressure, incline, terrain etc. Throttle/brake controls are usually on the handlebars. Electric scooters are relatively simple in design, simple to ride and get comfortable with, and many models do not even require a driver's license or insurance.
One thing that makes electric scooters for adults different from other battery-powered vehicles is the range of styles: it might be an electrically boosted old-school Razor-style kick scooter, a fancy seated electric ride from some hip startup, or a two-wheeler that looks exactly like its gas-powered counterparts. As the battery, charging technology and electric motor efficiency advances, these scooters get more and more appealing and increasingly popular year after year.
Electric kick scooters for adults
There is an abundance of new, lightweight e-scooters that look just like those you used to ride as a kid's scooter. However, these little rides have proven capable to be a convenient, cost effective, clean way of personal transport for adults, especially in urban areas. Lightweight electric scooter market has exploded over the past few years, and we are here to help you pick the best out of the sea of different brands and models.
Are electric scooters safe?
With the recent surge in popularity of electric scooters, mainly due to the introduction of dockless rental scooters in many European and US cities by companies such as Bird, Lime and Spin, many people are questioning the safety of these recreational vehicles.
New studies have suggested that electric scooter injuries are on the rise. Accidents have included falls, collisions with objects, and a small percentage of riders have even been hit by moving objects or vehicles.
Although most documented injuries are relatively minor (cuts, bruises etc.) electric scooter accidents can lead to more serious injuries, or even death if riders don't observe basic safety precautions and take into consideration that they are sharing the road with larger, fast moving vehicles.
The problem is that many people treat an electric scooter like a fun toy rather than a serious personal transportation vehicle.
An electric scooter should be no more dangerous than riding a bike if the proper precautions are taken and rules of the road adhered to. However, the reality is that many riders don't even wear a helmet, ride at speeds unsuitable for the conditions, and ignore local traffic laws.
With sensible usage, there is no reason why you can't have a safe, comfortable and enjoyable ride on an electric scooter. So in answer to the question "are electric scooters safe?", I would say that yes, they are, but only when used properly.
Top 10 Best Electric Scooter Reviews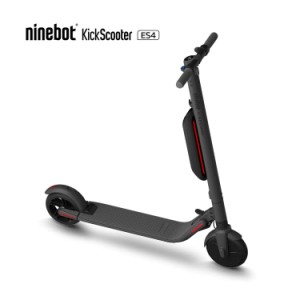 If you are a fan of sleek, modern style products, you are going to love the Segway Ninebot ES4 from tires to the overall frame, everything about this ride is prominent.The ES4 is a Segway kickscooter that promises greater power for better speed and range. It has a very streamlined look and an innovative battery technology. The Ninebot ES4 redefines the way modern commuters ride the kickscooter.
Sporting a dual battery system boasting a powerful 800 Watts of lithiumion batteries, this ensures that you go undisturbed and without any worry of recharging for more than 28 miles. That's a long distance really – ES4 can take you just about anywhere you want to go in the entire day.
Both the rear and front wheels feature shock absorbers and unique suspension mechanisms. These guarantee a smoother ride. however, Its wheels are not large enough for ground-hugging action. Its ground clearance is also not high enough to facilitate seamless navigation across rough terrain.
The ES4 electric scooter is Segway's newest combination of extra features in a faster and more powerful unit. Almost everything about this ride is perfect. Features like disc brakes, durability, long lasting battery and the waterproof design make us fall in love with this electric ride for commuting.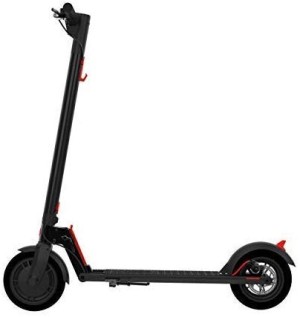 The GoTrax GXL is an exceptional option if you're looking for a mid-range scooter for commuting or just a bit of fun. is the GXL worth buying over the other options out there? Read the rest of our GoTrax GXL Review to find out.
A bigger 36V Lithium-ion battery allows riding up to 12.5 miles with a full charge, this is plenty for most commuters to ride to work on. With a low charge time of 3-4 hours, this is plenty of time to charge the scooter at work and ride home on a full battery without range anxiety kicking in!
Featuring a whopping 350W hub motor, the speed of the ride is pretty fantastic as well – you can go at 15.5 mph and impress everyone around you. On a single charge, you can use this super folding scooter for more than 12 miles.
Having no Bluetooth and smartphone app connectivity is a minor disadvantage to some, but we think this is offset by the attractive price and other quality specifications. If you are looking for a deal and you don't mind waiting a little longer, we recommend waiting to see if any Gotrax GXL V2 Black Friday or Cyber Monday deals are released in November 2019.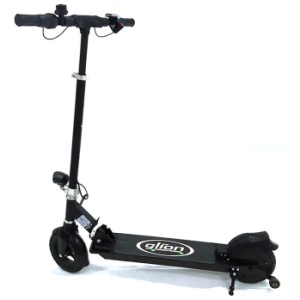 The most capable scooter on our list, we have the Glion Dolly Foldable Commuter Electric Scooter. with the 36V, 7.8ah Lithium Ion Battery, 3.25 hours of recharge time, Capable of traveling around 15 miles per hour, the Glion Dolly Foldable Commuter Electric Scooter is an absolute beast of a scooter.
Fully charged in 3.5 hours it's always ready to unfold, securely snap into position and go for a spin. When you arrive, simply fold your Glion Adult Electric Dolly-Fold Scooter in seconds, roll it behind you like a suitcase, and store it standing up in a closet or behind a door. The material used to construct this Glion Dolly electric scooter is aluminum. That makes this Glion Dolly foldable lightweight with only 28 pounds. You will even be able to carry it around on shorter distances if that is needed.
a smooth ride is assured by 8-inch tires featuring a honeycomb interior developed by the military and guaranteed never to go flat. Glion Dolly have developed a mechanical and electrical anti-lock braking system to ensure you come to a safe stop, with an anti-lock electronic brake safely located inside the rear hub motor.
Glion Dolly model is an impressive vehicle and it can make your life easier. It is safe to use, simple to control and it is dependable. If you're looking for the top electric scooter on the market – this might just be it.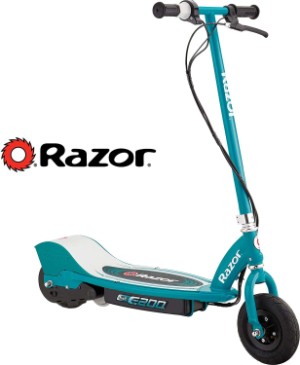 The next kid-friendly standing electric scooter model is the Razor E200 Electric Scooter. With a full size deck and frame, the E200 electric scooter is designed for ages over 13 and with the 36V battery, it is able to travel 12 mph, which is enough for even professional riders.