Electric Scooters

Best Electric Scooters for Adults 2020
2334 Views
Best Electric Scooters for Adults 2020
In this guide, we break down the best electric scooters, including the best scooter for beginners or kids; best cheap electric scooter; best high-end motorized scooter; and best electric scooters for commuting. To close out the guide, we'll go over all the buying considerations you should bear in mind when shopping. The motor, construction, speed, range, and weight are all critical factors to remember so that you can get the best e-scooter for your needs.
Electric scooters have become very popular in recent years for kids, teens, and adults alike. These vehicles look like the old scooters of the past, but an electric kick scooter is equipped with a motor and battery system designed for speed and distance. They aren't just for fun anymore, either; many of them are great for commuters looking for a green transportation option. You've seen them zooming past wondering pedestrians, or swerving through bustling city streets. Love them or hate them, but they get to where they need to be fast and easy, while other people spend hours in their cars, stuck in traffic.
What are the electric scooters?
Electric scooter is a two (or three) wheeled vehicle propelled by an electric motor powered by a rechargeable battery. The battery is charged by plugging the charger into the regular wall outlet at your home or office. Speed ranges from 8mph to 25mph (sometimes limited to 20mph) and they run up to 20 miles on a single charge. Of course, this all depends on various factors: weight of the driver, tire pressure, incline, terrain etc. Throttle/brake controls are usually on the handlebars. Electric scooters are relatively simple in design, simple to ride and get comfortable with, and many models do not even require a driver's license or insurance.
One thing that makes electric scooters for adults different from other battery-powered vehicles is the range of styles: it might be an electrically boosted old-school Razor-style kick scooter, a fancy seated electric ride from some hip startup, or a two-wheeler that looks exactly like its gas-powered counterparts. As the battery, charging technology and electric motor efficiency advances, these scooters get more and more appealing and increasingly popular year after year.
Electric kick scooters for adults
There is an abundance of new, lightweight e-scooters that look just like those you used to ride as a kid's scooter. However, these little rides have proven capable to be a convenient, cost effective, clean way of personal transport for adults, especially in urban areas. Lightweight electric scooter market has exploded over the past few years, and we are here to help you pick the best out of the sea of different brands and models.
Are electric scooters safe?
With the recent surge in popularity of electric scooters, mainly due to the introduction of dockless rental scooters in many European and US cities by companies such as Bird, Lime and Spin, many people are questioning the safety of these recreational vehicles.
New studies have suggested that electric scooter injuries are on the rise. Accidents have included falls, collisions with objects, and a small percentage of riders have even been hit by moving objects or vehicles.
Although most documented injuries are relatively minor (cuts, bruises etc.) electric scooter accidents can lead to more serious injuries, or even death if riders don't observe basic safety precautions and take into consideration that they are sharing the road with larger, fast moving vehicles.
The problem is that many people treat an electric scooter like a fun toy rather than a serious personal transportation vehicle.
An electric scooter should be no more dangerous than riding a bike if the proper precautions are taken and rules of the road adhered to. However, the reality is that many riders don't even wear a helmet, ride at speeds unsuitable for the conditions, and ignore local traffic laws.
With sensible usage, there is no reason why you can't have a safe, comfortable and enjoyable ride on an electric scooter. So in answer to the question "are electric scooters safe?", I would say that yes, they are, but only when used properly.
Top 10 Best Electric Scooter Reviews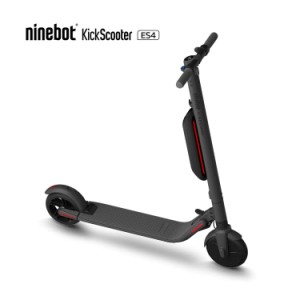 If you are a fan of sleek, modern style products, you are going to love the Segway Ninebot ES4 from tires to the overall frame, everything about this ride is prominent.The ES4 is a Segway kickscooter that promises greater power for better speed and range. It has a very streamlined look and an innovative battery technology. The Ninebot ES4 redefines the way modern commuters ride the kickscooter.
Sporting a dual battery system boasting a powerful 800 Watts of lithiumion batteries, this ensures that you go undisturbed and without any worry of recharging for more than 28 miles. That's a long distance really – ES4 can take you just about anywhere you want to go in the entire day.
Both the rear and front wheels feature shock absorbers and unique suspension mechanisms. These guarantee a smoother ride. however, Its wheels are not large enough for ground-hugging action. Its ground clearance is also not high enough to facilitate seamless navigation across rough terrain.
The ES4 electric scooter is Segway's newest combination of extra features in a faster and more powerful unit. Almost everything about this ride is perfect. Features like disc brakes, durability, long lasting battery and the waterproof design make us fall in love with this electric ride for commuting.
Pros
Lightweight yet sturdy
Great front and rear suspension
Front and rear LED lights
Can attach an external battery
Portable
Powerful motor
Cons
Low angle of climbing
No bell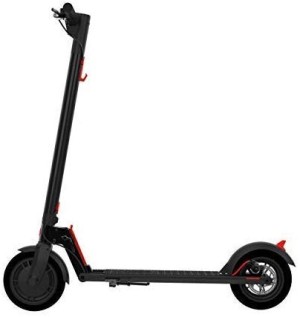 The GoTrax GXL is an exceptional option if you're looking for a mid-range scooter for commuting or just a bit of fun. is the GXL worth buying over the other options out there? Read the rest of our GoTrax GXL Review to find out.
A bigger 36V Lithium-ion battery allows riding up to 12.5 miles with a full charge, this is plenty for most commuters to ride to work on. With a low charge time of 3-4 hours, this is plenty of time to charge the scooter at work and ride home on a full battery without range anxiety kicking in!
Featuring a whopping 350W hub motor, the speed of the ride is pretty fantastic as well – you can go at 15.5 mph and impress everyone around you. On a single charge, you can use this super folding scooter for more than 12 miles.
Having no Bluetooth and smartphone app connectivity is a minor disadvantage to some, but we think this is offset by the attractive price and other quality specifications. If you are looking for a deal and you don't mind waiting a little longer, we recommend waiting to see if any Gotrax GXL V2 Black Friday or Cyber Monday deals are released in November 2019.
Pros
Smoother ride thanks to pneumatic tires
Easy to assemble and fold
Safer thanks to hand operated rear disc brake
One of the most affordable commuter scooters on the market
Good build quality
Cons
Low max rider weight
No cruise control
No smartphone app or Bluetooth connectivity.
Low climbing capacity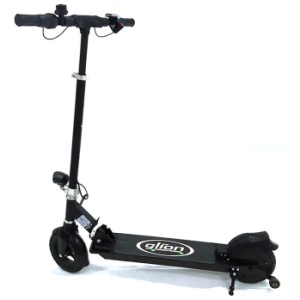 The most capable scooter on our list, we have the Glion Dolly Foldable Commuter Electric Scooter. with the 36V, 7.8ah Lithium Ion Battery, 3.25 hours of recharge time, Capable of traveling around 15 miles per hour, the Glion Dolly Foldable Commuter Electric Scooter is an absolute beast of a scooter.
Fully charged in 3.5 hours it's always ready to unfold, securely snap into position and go for a spin. When you arrive, simply fold your Glion Adult Electric Dolly-Fold Scooter in seconds, roll it behind you like a suitcase, and store it standing up in a closet or behind a door. The material used to construct this Glion Dolly electric scooter is aluminum. That makes this Glion Dolly foldable lightweight with only 28 pounds. You will even be able to carry it around on shorter distances if that is needed.
a smooth ride is assured by 8-inch tires featuring a honeycomb interior developed by the military and guaranteed never to go flat. Glion Dolly have developed a mechanical and electrical anti-lock braking system to ensure you come to a safe stop, with an anti-lock electronic brake safely located inside the rear hub motor.
Glion Dolly model is an impressive vehicle and it can make your life easier. It is safe to use, simple to control and it is dependable. If you're looking for the top electric scooter on the market – this might just be it.
Pros
The fastest fold I've found
Rear electric brake
Bright headlight and built-in tail reflector.
Nice big integrated fenders.
Cons
It weighs 28 pounds.
Slow 15 mph top speed
Short range - only got about 7.2 miles on average
Not great at climbing hills.
The battery life indicator is wildly inaccurate.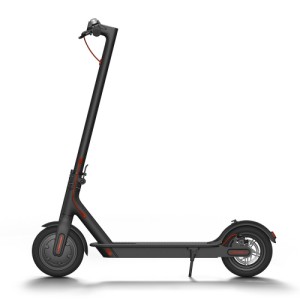 Xiaomi is a big player in the Chinese market. The Mi Electric Scooter Pro, which, according to Xiaomi's marketing talk, works as simple as it looks. the newcomer has a very elegant yet minimal design.
The Pro model is more expensive than the original, but has been updated substantially with a more powerful battery and electric motor, plus the addition of a very neat and clear display.
At first glance it becomes clear that it is intended for an adult user. This is indicated by its dimensions: height – 44.9 inches, and length – 42.5 inches. However, this scooter can be seen as a minimalist solution for a commuter. Thanks to its design, this electric scooter was awarded the iF Design Award, as well as the prestigious Red Dot award "Best of the Best".
Appearance
The handlebars are made of soft rubber and provide excellent grip. Under the left hand is a brake handle, as well as a simple bell. The right hand provides for the control of the electric motor. The handle of the motor operation is simple and convenient. Adjustment is smooth, the finger does not get tired even with long-term movement.
The power button is located on the steering wheel. It also provides an indication of the battery charge, made in the form of four LED lights, each indicating the battery charge by 25%.
In front of the steering wheel is an LED lamp. Its design involves one powerful LED and a lens. The intensity of illumination at night is not excellent, but the outgoing light is enough to see the obstacle ahead and also allow drivers to see you.
The Pro version has a very neat and clear integrated colour display, that displays your speed, power level and remaining battery power. Like the standard M365, you can download the companion app for more detailed information and functionality (see below).
Electric Motor
The small direct drive front hub motor used on the Xiaomi is available in 300w power outputs. This motor also serves to double up as braking, and uses a clever regenerative anti-lock brake function, that essentially reverses the motor in order to slow the scooter down very quickly – from 25km/h to standstill in around 3 seconds.
Performance wise both versions provide a more than adequate turn of speed. There are 3 power levels available: Eco 16 kh/m (12mph), Drive 19 km/h (12mph) and Sports mode 25 km/h (15mph).
Battery
Mi Electric Scooter Pro use a lithium battery pack concealed beneath the deck of the scooter. The main difference being the total energy capacity and thus, the range. The original M365 had a 36v 8.8ah battery that could give a maximum range of approximately 25km (18 miles) when ridden sensibly. The newer Pro model uses a much more powerful 36v 12.8ah battery, which increases the maximum battery range to 45km (25 miles).
Companion App
Although the Pro model has a full colour display, there are certain very useful functions that can only be used if you have the companion app connected via bluetooth to your scooter.
Conclusion
The functionality of this scooter is excellent, and some of the high-tech features are simply not found on other scooters in this price bracket. The front motor braking system is excellent and the colour display is very clear and easy to use.
Personally I think it is one of the best electric scooters for commuting, and would be perfect for someone who commutes by train or bus, but has a mile or two left to travel at the end of their journey.
Pros
Travel Range 45 KM
Weight 14.2 KG
Power 300W (600W Peak)
8.5″ Air-Filled Tires
The Climbing Angle Of 20%
Cons
Long Charging Time Up To 8-9 Hours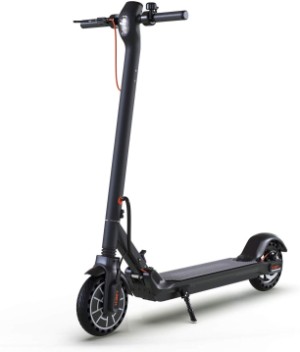 HiBoy recently released its third electric scooter model, the HiBoy Max. The new HiBoy e-scooter comes with many welcoming surprises. A more powerful motor, suspension, and the new battery provide it with a good increase to riding distance per charge.
Its overall performance is really good and in comparison to the massively popular Xiaomi scooters, on this one, you cannot get a flat while it still also provides excellent riding comfort thanks to its front suspension making up the us of solid tires. They are one of the first well-known brands to have a model with honeycomb tires as standard and we've gotten the chance to take it for a spin.
The Hiboy Max comes with a top speed of 18.6 mph which is slightly above the average when it comes to this type of scooter. The motor used is a 350W front mounted hub motor that really gives you some extra torque going up hills and its noticeable while accelerating too that you can reach max speed much faster than with their prior models. We had no problem with getting this thing up 15% hills without a problem. Just like the Turboant x7 we reviewed recently it has a much more powerful motor than the regular 350w we usually see in our tests..
The Hiboy Max has great features for the price range. The angle of handlebars makes riding the e-scooter very comfortable and joyful. Its advanced performance, unique design, and folding feature make it a really good contender against other electric scooters in the same price range. It is well worth the money and certainly has advantages over the previous electric scooter of Hiboy, Hiboy S2.
Pros
The scooter has a top speed of 18.6 mph, which is above the average when it comes to this type of scooter.
The 350W motor gives you some extra torque going up hills
The Folding mechanism makes it very easy to carry around and store
The Combination brake helps in stopping the scooter within a couple of meters, even if going at full speed.
The three modes are great if you will be riding in places where max speed might not be suitable.
The dual headlight is very helpful at night.
The smooth break makes it very safe to use.
Cons
The scooter can be a little heavy to carry around after folding.
It can be a problem if the scooter drains a journey halfway.
All in all, choosing an electric scooter can be a troubling task. There are so many variables, but don't look at that as a negative aspect. Instead, you should view it as a fun time because you're not only saving the environment by reducing pollution, but you're going to be riding around on an amazing electric scooter! Who doesn't want to cruise around and have a little bit of fun on the way to work, school, or the store? Electric scooters solve all kinds of issues, so find out which issues they solve for you, and choose accordingly!