hoverboards

Best Christmas Hoverboard for 2020
1640 Views
Best Christmas Hoverboard for 2020
The 2019 Holiday Season is upon us and, once again, hoverboards or self-balancing scooters are one of the most requested items by kids the world over.But, There are a lot of new hoverboard brands entering the space, driving the average prices down (which is good). Still, we have our favorites and, as a parent, there are a few things that you want to keep in mind when shopping for a hoverboard for Christmas.
which one to buy among multitude of different hoverboard brands present on the market?
We will try to help you to choose the best Christmas hoverboard and to bring joy and fun to people around you (and to yourself).It is important to realize that the best hoverboard is the one which is best suited to your needs and your wallet, right? We did our best to search the market and find out which hoverboard is the best for the 2019 Christmas holiday season.
There are a few factors to consider. we used criterion like safety, ease of use, maximum speed and range, durability of product, design, customer satisfaction and customer reviews, best selling products, UL2272 certification, additional product features and not to forget the price and availability.
Best Hoverboard for Christmas 2019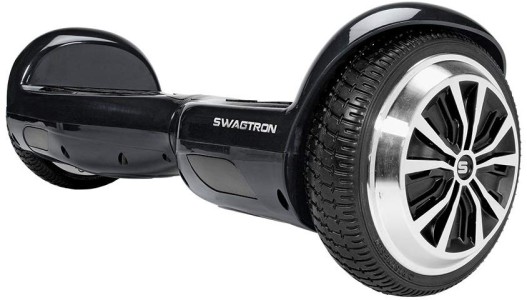 Swagtron T1 is known for its excellent maneuverability and excellent safety features that make it as one of the best hoverboards for kids and also adults. For those who don't know, Swagtron happens to be one of the leading brands in the hoverboard business, and actually, have a lot of different models under their belt.
The T1 can be considered as a high-end model because it does feature some of the best things you will need in hoverboard.
Now, this is a UL2272 certified hoverboard, safety comes before fun, but when that checks out, you're good to rock and roll!
To get this certification, every hoverboard of this model or every hoverboard going for this certification is put under a number of tests in order to determine the safety.
There are several tests performed on a hoverboard in order to make sure everything is in right place. Before we begin, you can read some of the advantages below:
Comes with UL 2272 certification ensuring maximum satisfaction and security.
Offers a top speed of 8+ mph that ranges to 12+ miles
Comes equipped with a 300-watt dual electric scooter motor.
The rechargeable lithium-ion battery lasts up to 2-3 hours on a single full charge.
Comes equipped with LED headlights, battery indicators, rubber bumpers, and a lightweight body.
Swagtron T1 comes with a patented SentryShield battery technology, and also comes with a smart battery management system that monitors and protects the battery.
This is a particularly good hoverboard for beginners because of its Stop Safe Technology and learner mode. It's a bit heavy for the under-8s to pick up though. But even they should be able to enjoy this board under supervision. If it checks enough of your boxes add the Swagtron T1 to your shortlist. As for the Swagtron T1, it's a perfectly capable hoverboard that offers amazing value for money, smooth riding, lightweight design, and a value for your money. Needless to say, it certainly is a top pick.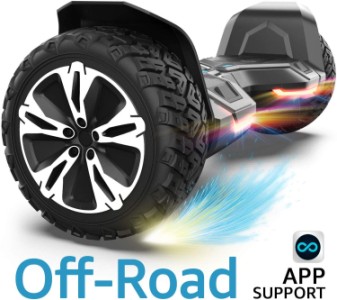 Gyroor sells several models of hoverboards. When I first started researching the brand, I liked the look of the F1. Their website claims its design is inspired by Formula 1 racing cars, and that really comes out. However, knowing my niece and nephew were going to visit, I wanted a hoverboard that could stand up to any punishment they might put it through. So, I opted for the more rugged Warrior, instead.
Gyroor's website says the Warrior can be used by anyone over seven-years-old but, in full disclosure, my niece is only six and was able to ride it without any problems J.
My first impression, when I opened the box, was that Tony Stark had designed this hoverboard from leftover parts of an Iron Man outfit. The Warrior shares some of the F1's sleek, streamlined features, but is also chunkier in important places; it's hard to describe, but it looks kind of like if the army designed a tank for aerodynamics, and then only gave it two wheels. At 30lbs, it isn't the lightest board on this list, but it's also not the flimsiest; made mostly of aluminum, it feels sturdy and solid.
Gyroor Warrior Hoverboard Highlights
I live in an older part of the city, and tree roots have turned our sidewalks into something that M.C. Escher might have wanted to draw. So riding hoverboards to work can be, depending on what route I take, harrowing. I'm happy to say that, while I definitely cannot go full speed over a badly broken sidewalk, the Warrior felt safe to ride, and it was fun navigating the climbs and drops.
When I visited the park with my brother and his kids, the Warrior handled grass and roots without much problem. I can't say I never fell off, but I was trying to push the Warrior's limits, and there might have been some operator error. My niece and nephew loved riding off-road, daring each other to ride over terrain they thought would be challenging.
On smooth pavement, it has a top speed of almost 10 mph. While this isn't the fastest hoverboard on my "top ten" list, it does make for a fun ride.
Gyroor's website claims the Warrior is water resistant, but it's also light enough to take on the bus, which I do whenever it rains. I'm also sure that it would fit in the trunk or back seat of a car (though I haven't actually tried this, because I don't own a car). J
It takes about two hours to charge, which is pretty fast; other boards on the list take five hours or more. When I rode it to work, I was able to plug it in knowing that it would have enough battery to get me home (even when I took a half-day). The charge speed was also nice in the evenings, in case I needed to go somewhere else. Going full speed, the battery lasts about an hour.
What I did NOT Like
The Bluetooth seems to disconnect at random times. This was fine when I had the time to turn the thing off and back on and reconnect, but sometimes I just wanted to get where I was going, and to have it disconnect from my phone could be annoying.
Also, when it gets low on charge, it kind of rocks back and forth, which kicks the rider off. When you know it's going to happen it isn't a big deal, but it was scarier to watch it happen to my brother's kids when they weren't expecting it.
And the instructions on how to operate it are somewhat minimal. While it isn't hard to look it up online, or to watch how-to videos on YouTube, it would be disappointing to open up a new toy and then have to tell your kids, "Oh, hold on… I don't know what this does. Let me look it up online."
What I Liked
What I liked most about the Warrior, compared to some of the other brands on this list, was that it had features that attracted my siblings' kids, while still being sturdy enough for me.
The Warrior's Bluetooth connectivity and speakers were also a great feature. I live on a cul-de-sac, and when my brother visited we let his kids ride in the street (because my sidewalks are so bad). Their dad didn't let them wear earbuds in the street, so they liked that they could still listen to music with relative safety. And, if I'm being honest, I sometimes listen to music when I ride to work, and crossing streets wouldn't be safe with earbuds. With Bluetooth, I could also adjust the board's maximum speed, or set it to 'Kid Mode' for my niece. The color of the LED lights can also be changed, which the kids loved (but that honestly didn't do anything for me).
The weight and aluminum construction helps this feel sturdy underfoot. There are hoverboards marketed to kids, but this felt sturdier than some of those, which I liked (and again, being able to adjust the maximum speed was nice when kids wanted to ride it). Its tires are rubber, and nicely absorb of the smaller shocks and bumps of an uneven road.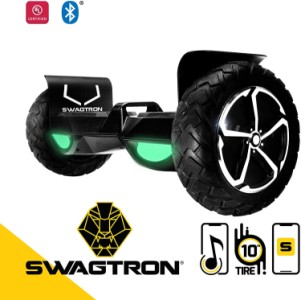 Next up is the SWAGTRON T6 and one of two off-road hoverboards on this page. It's an incredibly strong self-balancing scooter with the strength and build to take it places other boards can't go. SWAGTRON has been among the leading companies to make some of the best hoverboards for a while now. Seriously, I have not seen the same level of impressive hoverboards from any other company so far. It is almost like a monopoly. And today I am looking at the SWAGTRON T6, one of the very few hoverboards that are made for different terrains.
The first look, and you will know that the company paid extra attention to detail; the hoverboard is made using quality material, and looks very rugged. After checking the specifications out, I figured out the reason behind such a rugged construction; the hoverboard supports up to 420 pounds. Other hoverboards often support maximum 220 pounds so 420 is nearly double of what I expected to see in the market.
Best feature 1: Handles up to 420 lb. payload
Best feature 2: Rugged, 10-inch tubeless air-filled tires
Plus points: SWAGTRON app for Android and iOS, incredible traction, Bluetooth
Minus points: Higher price tag, not easily portable
The SWAGTRON T6 is the off-road hoverboard that feels as good as it looks. If you want something that offers a bit more adventure then the T6 has to at least make your shortlist. It's a quality capable scooter that can take you places other boards simply can't go.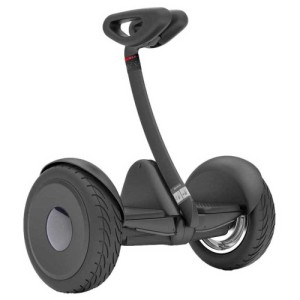 Next up, the Segway Ninebot S, an innovative hoverboard design that incorporates a knee control bar. This bar is height adjustable and great for kids and adults alike. Simply adjust the height to the rider. As always, the build quality of the Ninebot S is more than up to standard. Made with an aviation grade magnesium-alloy frame, making this board lightweight, yet extremely durable. Thanks to this, the Ninebot S is capable of supporting up to 220 lbs (100 kg), whilst just weighing a mere 28 lbs (12 kg).
What's more, this Segway model has an adjustable top speed of 10 mph. Letting your friend ride for the first time? Adjust the max speed accordingly to perfectly suit any rider, via the Segway mobile app on iOS or Android. Featuring IP54 waterproofing and completely UL 2272 certified, a high standard of electrical and fire safety is ensured throughout your ride. On the technical topic of specifications, the Ninebot S offers 13.7 miles range on a single charge. That's a significant increase of nearly 2 miles, in comparison to other top line boards.
Best feature 1: Powerful, dual 400W motors
Best feature 2: Large, puncture-proof anti-skid tires
Plus points: Full intelligent app control, lightweight & portable, knee control bars, light safety
Minus points: Annoying speed bleeps, auto-braking
In fact, a high standard of safety is maintained throughout the entire design. Fitted with 10.5 inch anti-skid pneumatic tires for the smoothest riding experience possible and extra grip on tricky terrain. The Segway Ninebot S also features smart auto-balance technology, alongside fully customisable LED head/tail lights to help the rider stay visible at all times. As a result of the innovative design, its high standard of safety and technological utility firmly put it as one of the best hoverboards for adults of 2019.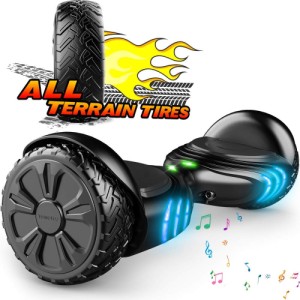 The Best Value self-balancing hoverboard is the TOMOLOO Q2X. It's a beast of a board yet easy to balance and steer, wherever you take it, whatever your skill level.
Petite and powerful is a good combination. The Tomoloo Hoverboard Q2X-Pink comes from the Q line that features 6.5" wheels. Its complete model name is Q2X Fire Kylin. On a single charge, the Tomoloo hoverboard Q2X-Pink can go as fast as 7.45 mph. Its load capacity is 220 lbs and features a climbing ability of 15 degrees. If use is continuous, expect to get a good 3 to 4 hours of operation. Tires are at a petite but smooth riding 3.5". Runs on 18650 lithium batteries 108 Wh / 4.3 Ah. It shares the same features as other Tomoloo hoverboards – an app that allows riders to control the on/off switch, front and rear angles as well as steering sensitivity among many others.
Best feature 1: Off-road, multi-terrain capable hoverboard
Best feature 2: Powerful 350W motor
Plus points: Rugged board, eye-catching design, solid tires, app control, RGB lights
Minus points: Slow top speed
TOMOLOO is a trusted name in hoverboard quality and safety, and this model checks a lot of boxes. The cost of its torque is a slower vehicle. TOMOLOO built the Q2X for off-road adventures rather than speed. It's not painfully slow, but the 6.2mph top speed is way short of some rivals. Thus, if you want to go fast over flat—rather than steady over tough terrain—then this isn't the board for you.
We hope this roundup of the best hoverboards for Christmas 2019 is helpful to you in choosing the perfect gift for yourself or your family. In the days between now and Christmas, we'll update this article with any special discounts or new models. Also, bear in mind that stock availability may be limited, so we recommend ordering your chosen hoverboard as quickly as possible, to avoid disappointment.